Multi-Channel, multi audience, highly effective customer engagement.
The missing link between you and your target is right here at LinkActiv. Yes, we are your bilingual, bicultural connection that simplifies communication processes through state-of-the-art technology, outstanding human resources and superb, uninterrupted service.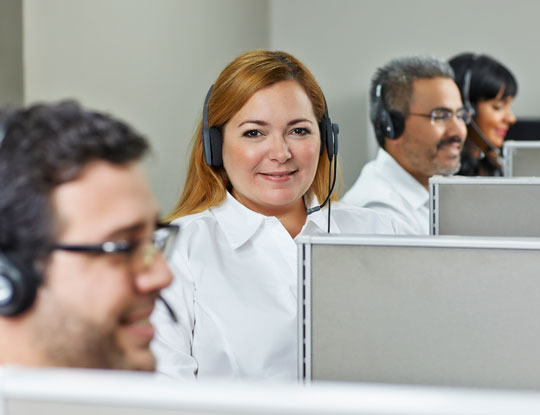 LinkActiv has a Customer Interaction Management service that combines multimedia customer contacts (voice, chat, e-mail and fax), ACD (Automatic Call Distribution) with Skills-Based Routing capabilities, and a robust and completely customizable IVR (Interactive Voice Response). LinkActiv's CTI (Computer Telephony Integration) platform is a redundant hosted solution that leverages multiple core network carriers for maximum uptime.
As a Computer Telephone Integrated (CTI) Multimedia Customer Interaction Center, LinkActiv provides proven solutions for companies seeking to improve their customer contact experience through an integrated network that covers all customer interactions across all 1:1 channels.
Our Outbound Contact solution has the ability to efficiently reach customers, providing the tools to manage the calling process, drive performance and improve customer satisfaction.
Technological Platform and Services:
Automatic Call Distribution (ACD)
Advance CTI (Computer Telephony Integration)
Efficient Queue Management
Interactive Voice Response (IVR)
Customizable Screen Pop
Voice and Data recording for quality assessment / Quality Assurance
Multi-Channel Support (voice, email, chat, browser)
Supported by a powerful voice and data network backbone
Customer InteractionsTelemarketing:
Customer Service
Event Management
Surveys
Telesales
Insurance
Our CTI ACD Software features can help you target customers, reduce hold time, increase productivity and drive results.
Skills-based routing enables the assignment of multiple skill-by-agents to ensure maximum utilization of resources by minimizing transfer and hold time.
Universal contact queue provides a consistent level of service regardless of the contact method used.
Inbound/outbound call blending balances the call center's activity level and maximizes productivity by keeping agents engaged.
Database connectivity provides caller-specific information each time the call is transferred.
---
Give us a call at 787.641.0101
You´ll be pleased with our solutions.